PAST PROJECTS
2019-2020
Development of a Park-based new strategic vision (30 years) Visitor Experience Concept Plan for Kangaroo Island, Dept. of Environment and Water, SA (2020).
Facilitation and support for Tasmanian Wilderness Guides Association to review the Tasmanian draft Tourism Master Plan for the Tasmanian Wilderness World Heritage Area (2020).
Develop the Regional Event Strategy for Kangaroo Island (Feb-May 2020).
Grant writing support for Kangaroo Island bushfire recovery grants (2020).
Project managing the State of Volunteering Report for Volunteer Victoria, The economic, cultural, and social value of volunteering for Victoria (project lead IPM, 2020).
Adelaide Plains, Tourism and Economic Development Strategy, (project lead Holmes Dyer, 2020).
Advice to European Union Project on the development of an Atlantic Tuna Route, Mediterranean (2019).
Analysis to lift the level of cruise passengers taking tours at a destination in Tasmania, Tourism Tasmania (led by Strategic Consulting, 2019)
Market research and feasibility work around Tasmania's next iconic multi-day walk Tasmanian Parks and Wildlife Services (project lead Myriad Research, 2020).
A market sounding and also a competitive positioning study for Light to Light multi-day walk in southern NSW, NSW Parks and Wildlife Services (2019).
Priority project identification and Actions for the active and indulgent markets in Clare Valley Region (2019).
Development of Greater Port Macquarie Destination Management Plan (in conjunction with Meredith Wray, 2019).
Strategic positioning of the NSW Parks and Wildlife Service Discovery Program (2019).
Undertaking a market sounding study for Murramarang walk, to gauge the level and areas of existing and potential operator interest in delivering a range of services for walkers for NSW Parks and Wildlife Service (2019).
Develop an interim and long term solution for Kangaroo Island Council around Visitor Information Servicing due to the closure of the only accredited VIC on the Island (2019).
Designed a series of KPIs focussed on financial measures of Victorian Visitor Information Centres, for Visit Victoria, that are easily embedded in existing data collection systems (2018-19).
2016-2018
Project managing the considerations around the possible amalgamation of four-member organisations on Kangaroo Island – KI Food and Wine, Tourism KI, KI Industry and Brand Alliance, and Business KI (2016-2018).
Developed the Nambucca Shire Strategic Tourism Plan 2108-2023 (with Dr Meredith Wray, 2018).
Provided advice on sustainable tourism development for a China, S Korea, and N Korea joint World Heritage Area submission around wetland protection for the East Asia flyway (migratory shorebirds) in Yancheng, China (Dec 2017).
Developed Destination North Coast (regional network, NSW) Strategic Tourism Plan, (led by Meredith Wray, Aug-Nov 17).
Wrote the successful grant application for Kangaroo Island Council – Prospect Hill Trail development, securing $750,000 grant funds (Building Better Regions Fund, 2018).
Wrote the successful grant application for the City of Mount Gambier, Guides of Mount Gambier Project, securing $20,000 (Building Better Regions Fund, 2018).
Facilitated and supported the Board of Victorian Tourism Industry Council to consider new strategic directions (2018).
Designed a series of tools for the Victorian Tourism Industry Council to assist Regional Tourism Boards and other tourism industry professionals better discuss resourcing of tourism with Local Governments, resulting in the production of the document, 'Why and How Local Government Should Engage with Victoria's Visitor Economy' (2018).
Supported an emerging cluster of tourism operators to develop a code of conduct and industry charter for 'Hot Springs Australia' (2018).
Kangaroo Island, Open All Year Project – Undertaking the design, development, and strategic management of this 15-month project for Kangaroo Island Industry and Brand Alliance to increase visitation to the Island over the quiet times.
Kangaroo Island Transformation Project – Undertaking business development program across all industry sectors to assist island businesses to benefit from the $171m of new projects planned, including an airport upgrade (led by Songfront).
Working with businesses and associations to develop strategic plans.
Lead author for published book chapter (with Scheerer and Walker) on improving the sustainable management of expedition cruise destinations in Australia, CABI.
Regular key speaker – recent examples include keynote for tourism at World Small Island Conference July 2017 (Kangaroo Island) and VTIC Visitor Information Centre Conference (Aug 2016).
 Project managed a major visitor information servicing review for Mt Gambier (March 17 – June 17).
Wrote the successful grant application for Kangaroo Island Sculpture Park, securing $288,000 (Building Better Regions Fund).
Worked with Ecotourism Australia staff to assist the Vanuatu Government to implement minimum standards for all tourism businesses and add ecotourism standards as appropriate (2016).
2013-2015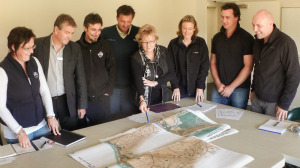 Nature-Based Tourism development in South Australia – Gathered input from the tourism industry on issues and opportunities for change – running regional workshops, online surveys and assisting DEWNR and SATC staff in the compilation of industry views.
Improved the clarity around governance (roles and responsibilities) of the tourism industry in the Daylesford Macedon Ranges, by assisting the Regional Tourism Board to work with its stakeholders to identify areas of improvement and develop better ways of working together.
National Project Manager for the development of a new definition of volunteering for Volunteering Australia.
Led an independent Review for Tourism Victoria examining the impact Regional Tourism Boards and Destination Management Planning are having on the performance of tourism in regional Victoria. Claire project managed a team consisting of Sarah Lebski and Dr. Meredith Wray and the Review focused on identifying improvements that have resulted from the introduction of RTBs and DMPs, what is working well, and where further changes are needed, particularly around cooperation.
Developed a Strategic Plan 2014-18 for Kangaroo Island Council in conjunction with Songfront (Sue Arlidge – project leader).
Worked with SATC to produce the South Australia Tourism Plan 2015-2020, SATC Corporate Plan 2015-18, SATC Annual Operating Plan Y2015 and assist in strengthening the overall planning cycle for the Commission.
Developed the Kangaroo Island Tourism Employment Plan – in conjunction with EC3 (project leader), writing the 'Our Kangaroo Island' online training module to improve customer service and an ambassadorial approach to tourism by local staff.
Facilitated the development of Brand Kangaroo Island – a new association that represents all Kangaroo Island products and services.
Undertook primary research and published academically on the University of Tasmania international student experience and perceptions in working in Tasmania, particularly in tourism and hospitality.
2012-14
Delivered the National Landscape Strategic Tourism Investment Grant (in conjunction with TRC Tourism and EC3). As part of this project, Claire Ellis led four projects:

Lorne Heritage Centre, Victoria – build and interpretive design and development.
Twelve Apostles Trail Detailed Planning Project, Victoria.
Flinders Ranges, South Australia – Experience Development Program.
Kangaroo Island, South Australia – wrote the Kangaroo Island National Landscape Strategic Tourism Plan that created a format for National Landscapes Federal requirements based on an Experience Development Strategy being integrated with the Island's desire for a single tourism plan.
Worked with TRC Tourism to deliver the Kimberley Coast Cruise Management Strategy.

Provided research support to Avana on the Welcoming Chinese Visitors and Servicing Chinese Visitors Strategic Tourism Investment Grants.